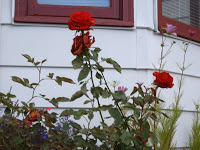 It is a beautiful winter in Anchorage; however I long for summer flowers. My garden of last summer is merely a memory as the Anchorage days grow longer. I'm certain one of my Master Gardner friends is busy planning her annual trek to the Northwest Flower and Garden Show in Seattle this week.
The end of this month we in Anchorage will celebrate Fur Rondy and then have all the Iditarod Race mushers leave for the long trip to Nome by dog sled. All great winter activities that will get us outside to enjoy winter.
I will begin forcing some twelve tulip bulbs which I've had getting ready in my freezer for this moment. Can spring and summer with all the colorful flowers be far behind?