Camai Bed and Breakfast is celebrating our 30th year in business in Anchorage, Alaska! That makes us the oldest operating bed and breakfast in Alaska.
We want to include our 2011 B&B guests in our celebration. Finally we got the inspiration of how to celebrate.
Alaska Denali Winery has been in business for 14 years. We have made some delightful wines using their facility and products. We purchased grape juice for both a Chilean Chardonnay and Chilean Merlot. These wines will be ready for us to bottle in late March. After that we will offer a choice of red wine, white wine or sparkling cider to our guests who congratulate us on the 30th anniversary of owning and operating a home-stay bed and breakfast.
We wish to thank the Anchorage Alaska Bed and Breakfast Association and the Bed and Breakfast Association of Alaska and all their members who have been such a support throughout the years. Camai B&B was a founding/charter member of each group. We have also been members of Professional Association of Innkeepers International for many years. We commend this group for its Better Way to Stay campaign and for the monthly webinars. Most importantly we thank Acorn Internet Service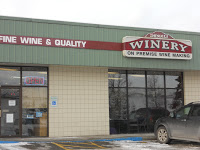 for our website design, hosting and terrific support they have done for us. Their Webinars are the best learning tools around!
So, join us in celebrating a remarkable milestone! Happy Anniversary, Camai Bed and Breakfast!!