This breakfast recipe for Pecan Cinnamon Rolls is a modification of the recipe for Bacon Pecan Cinnamon Rolls found on food.com. At Camai Bed and Breakfast's house for breakfast this past weekend I prepared the recipe for Bacon Cinnamon Rolls. I always prepare the recipe exactly is written the first time. While it is tasty, in my opinion, it is not as good as the one below which I have modified, as indicated.
The recipe is easy to prepare and its presentation is impressive.
Please let me know what you think of this recipe. You may post a comment to this blog if you wish.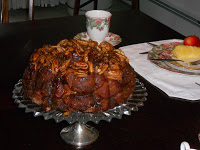 Pecan Cinnamon Rolls
Ingredients
• 1 cup pecan halves
• ½ lb bacon, cooked crisp crumbled (I suggest omitting this.*)
• 24 refrigerated biscuits (large ones)
• ¾ cup sugar
• 2 tablespoons cinnamon
• ¾ cup butter, melted
• 1 cup brown sugar* (original recipe calls for regular sugar)
• 2 tablespoons cinnamon
Spray bundt pan with non-stick spray. Spread pecans on bottom. If you are using crumbled bacon, also spread it on bottom of pan. Set this aside.
In gallon size Ziploc bag mix ¾ cup sugar and 2 tablespoons of cinnamon. Place biscuit three at at time in Ziploc bag. Shake well until each is coated.
Place pieces into a bundt pan on top of the pecans. About six biscuits will form a first layer. Stagger each layer. You will have about four layers.
Combine melted butter, 1 cup brown sugar and 2 tablespoons of cinnamon. Pour over biscuits.
Bake until golden brown for about 35 minutes in 350 degree oven. Serve warm.