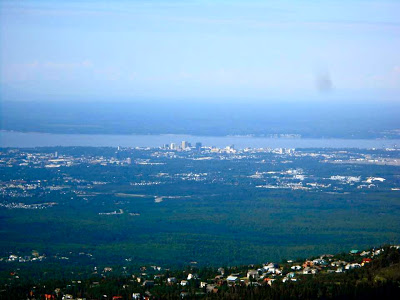 Anchorage viewed from Flattop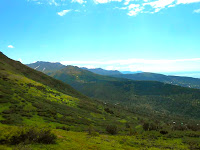 Looking from Flattop Trail
Flattop
Mountain is one of the most popular and talked about hikes in
Anchorage. Craig and Caroline have both done it and recommend it to their guests at
Camai Bed and Breakfast
. Flattop is aptly named as
the 3,510 foot top is a sizable flat surface. Flattop hikers are awed with its
spectacular views and interesting obstacles. Probably every citizen of
Anchorage, as well as most tourists, has hiked this
Chugach State Park trail
. This hike is definitely not
one to pass up and gives views of both the Anchorage and Alaskan backcountry.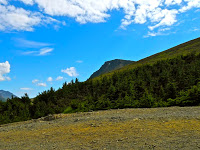 View from Flattop Trail
The
Glen Alps trailhead parking lot
allows for easy access to the Flattop trail and is equipped with stairs at the beginning and mid-way
through the hike. Be prepared to pay the $5 parking fee to park. There are
probably 30 ways to climb to the top, ranging from a leisurely, groomed trail,
to a more rustic, scrambled challenge.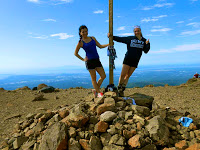 Liz & friend at summit
The last 150 ft. are the most treacherous. This is the exhilarating part of the
ascent. Good, sturdy shoes with traction are highly recommended for scrambling
up the rocks to the top. As with Alaskan wilderness hikes the views are worth
the effort.
Standing on top, hovering below
the wooden pole that signifies your 3,510 ft elevation accomplishment, you can
see the most spectacular view of Anchorage. On a sunny day, the cities streets
reflect the sun turning them into a golden design in the midst of mountains. To
the right you will see the stretch of Power Line Pass where bear and moose are
often seen. Beyond that you can see the numerous mountain peaks accessible from
Flattop by the continuous trails.
This is a hike for all ages and
is a trademark of the great city of Anchorage. If you ask any Anchorage
resident which hike they recommend, the answer is surely to be Flat Top.