This Anchorage Alaskan summer has been a unique and rare one. It
has been sunny most of the days, allowing Camai B&B guests to enjoy the
lovely Chugach Mountain Range.
Denali has frequently been seen this summer from various other places in
Anchorage. The long sunny days have made Anchorage's flowers particularly
spectacular this summer.
The lack of rain has not stopped the
Camai Bed and
Breakfast
garden
from
being a glorious display! Anchorage has an almost indefatigable supply of water
from Eklutna Glacier. Our
sprinklers are turned on frequently.
Begonias, ferns, roses, trollius, mint, carrots, lettuce, potatoes, and
much more flourish in the lush, groomed areas in our garden. The garden can be enjoyed while sitting
on the deck with a glass of wine or sitting in the glider sipping a cool glass
of iced tea.
As the sun illuminates all the colors of our garden's
extraordinary flowers, tall purple stalks stand out in clusters. These native
plants are called Fireweed. Why are they called Fireweed when they are purple?
Wouldn't the appropriate colors be red, orange or yellow? It is a much asked
question.
Wild fires are typical for the summer season in Alaska and
they leave the charred remains of a once stunning landscape. But if you revisit
the land after a devastating fire, you will view purple as far as your eye can
see. This beautiful phenomenon is because Fireweed is what flourishes after a
fire and that is how the plant received its perfectly suited name; especially
for such an extordinary plant.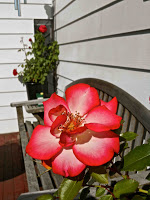 Betty Boop Rose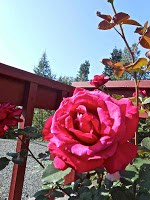 Firefighter Rose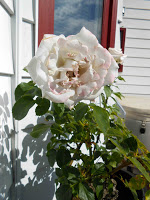 Stainless Steel Rose
Another treasure of Camai bed and breakfast's garden
is Craig's romantic rose garden. Betty Boop's laced with pink rims daintily sit
besides the bench, the
Firefighter Rose's fragrance is
one that will never be forgotten! Other roses, like the Stainless Steal, are
pleasant surprises to adore and smell. While you are visiting make sure you
stop, sit, rest and smell the roses!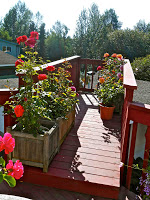 All of Craig's Roses are on our deck where moose cannot eat them.