Anchorage Alaska's Summer 2013 was phenomenal for growing
rhubarb. This is the first year we have had rhubarb all summer. June was extremely hot so I watered the
rhubarb. It thrived. August was wet. The rhubarb loved it and continued to
produce. I used the last of the rhubarb in the following fantastic recipe. As tasty as the recipe is I do not recommend it for breakfast.
Enjoy as a dessert!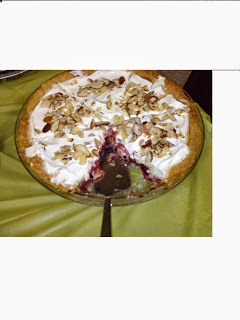 Rhubarb Cream
Cheese Pie
4 cups chopped rhubarb
1 ½ cups sugar
4 tsp. cornstarch
½ tsp salt
1 piecrust for 9" pan
8 oz cream cheese
2 eggs
1 cup sour cream
sliced almonds
In a sauce pan stir
together rhubarb, 1 cup sugar, cornstarch and salt. Cook over slow heat until rhubarb is tender.
Put piecrust in pie
pan. Pour rhubarb mixture over
crust. Bake at 425 degrees for 10
minutes.
Mix cream cheese, ½ cup
sugar and beaten eggs.
After pie has baked for 10
minutes, pour cream cheese mixture over the hot pie. Bake pie at 350 degrees for 35 minutes.
Chill pie until it is
completely cool.
Pour the sour cream over
the top. Put the sliced almonds
over the sour cream.
Serve.
Store any remaining pie in
refrigerator.